Habiba Ahmed Abd Elaziz was a reporter killed in Egypt during the violence Abd Elaziz was a reporter for XPress – a Dubai and Abu Dhabi newspaper in the United Arab Emirates and a sister publication of Gulf News. Habiba Ahmed Abd Elaziz has become the second reporter killed in Cairo during the violent protests. Earlier it was reported that a Sky News photojournalist killed during Egypt protests and shot in the head.
#XPRESS reporter #Habiba Ahmed Abd Elaziz killed in Cairo clashes. Newsroom won't be the same w/o u, Habiba. http://t.co/S2lGGvbkbr

— XPRESS (@XPRESS_UAE) August 14, 2013
#XPRESS reporter Habiba Ahmed Abd Elaziz shot dead in Cairo. More details to follow pic.twitter.com/rsDgGmnHp3

— XPRESS (@XPRESS_UAE) August 14, 2013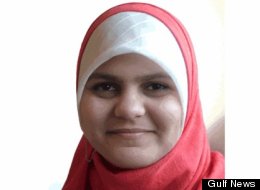 Habiba Ahmed Abd Elaziz reporter for UAE XPress shot dead in Cairo – Image credit Huffington Post
Habiba Ahmed Abd Elaziz was only 26-years-old. She also had a Facebook page. While the writings on the page are in Arabic it doesn't take a translator to show that there are many condolences being posted on her page.

Habiba Ahmed Abd Elaziz was talking to her mother right before she was killed. Huffington Post has released a transcript of the conservation.
Habiba: I took three kinds of medication. It's very cold here and I'm shivering. The crowds are massive and on high alert. Pray for us, mother. Mother: God, keep us steadfast and give us power. God, grant us power over their necks I entrust you to God the Almighty Habiba: I'm heading to the platform in a little while. There are tanks there.
Mother:
God grant us steadfastness
God grant us victory
This is what I wrote on my page:
God, I entrust to you all my brothers and sisters, sons and daughters in Rabeaa and Al Nahda and all those who are protesting across Egypt. God I entrust to you with my husband Ahmed and my daughter Habiba. May we not be bereaved over any of them. God empower them and support them and keep them steadfast at the moment of encounter today.

12:46pm
Mother:
Habiba, please reassure me. I've called thousands of times. Please, my darling, I'm worried sick. Tell me how you are.