Robert Zimmerman Jr, brother of George Zimmerman was getting trolled by ABC leftist hack Matt Gutman. The ABC hack called Robert Zimmerman a 'hypocritical douchebag' because Gutman got fooled by a fake, parody George Zimmerman twitter account. The Zimmerman family still lives rent free in the heads of crazy media leftist hacks like Matt Gutman.
.@mattgutmanABC @TherealGeorgeZ is my brother, @GunTotinGeorge is NOT. Remember your words 2 me last time U were confused by a parody acct?

— Robert Zimmerman JR (@rzimmermanjr) January 31, 2014
The ABC POS who called Robert Zimmerman a hypocritical douchebag did what all leftists do when they get owned. He deleted it, but a screen shot is still available.
.@ChuckGLP @mattgutmanABC @ABC "opportunistic, hypocritical douchebag"-Speaking of #classy: See attached & back off. pic.twitter.com/draBd9y81P

— Robert Zimmerman JR (@rzimmermanjr) January 31, 2014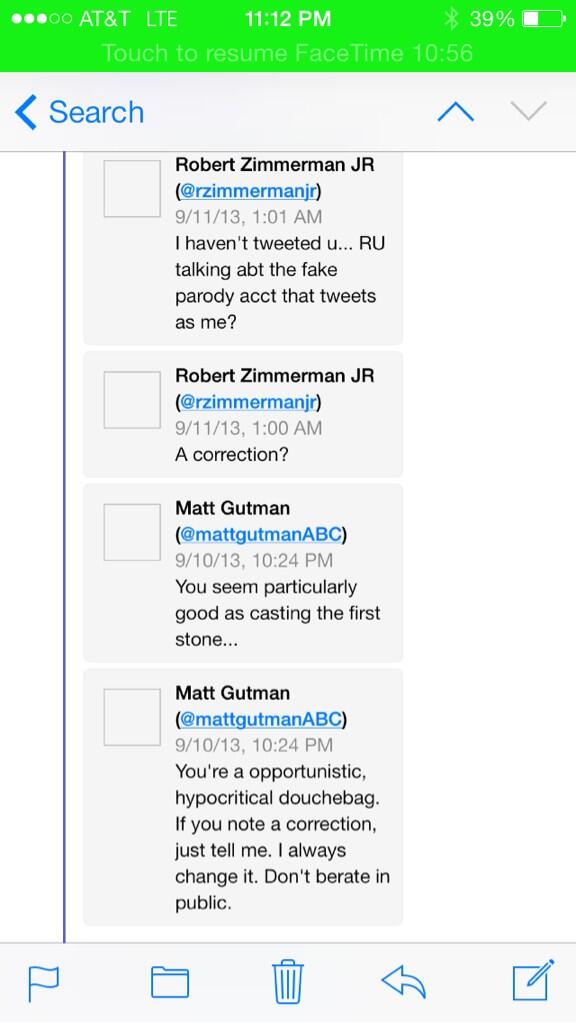 ABC's Matt Gutman calls Robert Zimmerman Jr douchebag after falling for parody Twitter account post

Matt Gutman is a Miami based ABC correspondent. The parody George Zimmerman account posted something about Zimmerman doing a 'celebrity fight' and that he would fight a black person. TMZ even picked it up. Problem is the account is not really George Zimmerman. Twitter parody accounts are common for 'famous' people. Of course, you really can't expect an 'esteemed news organization' to actually get the facts verified before they run with it and smear people they hate now do you?
Matt Gutman is the last person who should be calling someone else a hypocritical douchebag.