Ukrainian protesters are gathering outside to White House to protest Obama's pitiful response to Vlad Putin's invading of their home country. From the White House press pool report: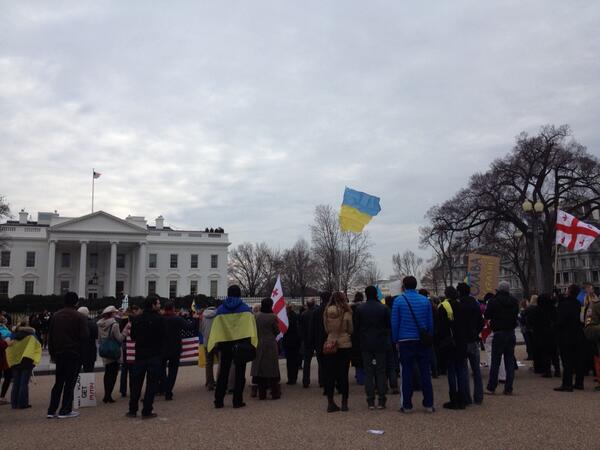 Ukrainian protesters gather in front of White House
small group of Ukrainian protestors gathered in front of the White House around 4pm to call on the US and EU to do more to combat Russian aggression in Crimea.

Ilona Doerfler, a young woman from Kiev who carried the megaphone, urged economic sanctions and a naval blockade. "Nato ships in the Black Sea should organise a non-invasive blockade to stop Russian ships exiting," she said. Asked about the dangers of escalation, she replied: "It's already escalating. It is not about the Ukraine, it's about the integrity of promises to respect territorial sovereignty."

The group of around a dozen protestors said it had assembled spontaneously. Earlier in the day, there were much larger protests outside the White House over Venezuela and Turkey in the same spot.

Yea, small group. Ok leftist media. It's always a 'small group' when the protest is against Obama. If this was a protest against George W. Bush, the beginning of this press pool report would have read: 'A large group of krainian protestors gathered in front of the White House.'