Lolita Grayson is the wife of neanderthal progressive liberal Democrat Alan Grayson. Lolita Grayson claims that Alan shoved her during a domestic incident and has been granted a protective order. Alan Grayson, the nut job leftist Democrat has denied he shoved his wife. Just another fine example of the true war on women Democrats are conducting every day. Don't expect this to get any press coverage though. Since nutty Alan Grayson is a Democrat, he will get a free pass if it turns out he really did shove his wife. Remember, Alan Grayson is the same nut job who claimed Republicans want you to 'die quickly' without ObamaCARE and compared the tea party to the KKK even though the KKK is a Democrat legacy.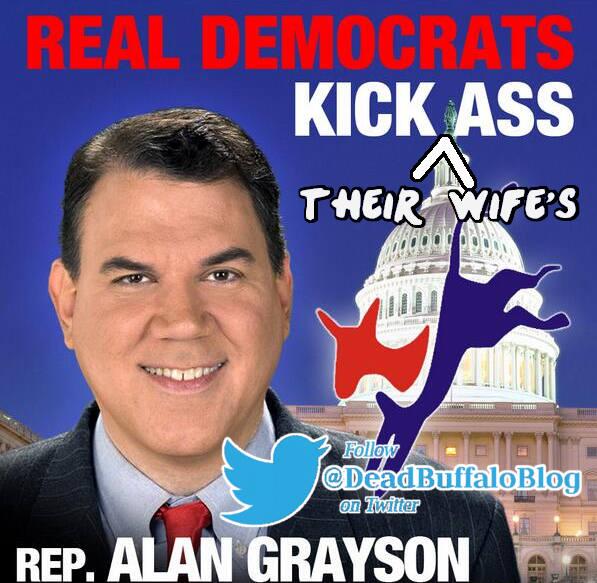 Lolita Grayson wife of Alan Grayson claims he shoved her during domestic incident
Grayson and his wife, Lolita, are in the process of divorcing after 24 years of marriage. The couple have two children.
According to a complaint filed by Lolita Grayson, she and the congressman had an argument when he came to her house on Saturday night.
She asserts that Grayson "deliberately and with force pushed [Lolita Grayson] very hard against the front door, causing [her] to fall to the ground as a result," according to a copy of a complaint obtained by the Orlando Sentinel.
Lolita Grayson also claims the congressman "has battered [her] and the parties' minor children" in the past, although she has not previously reported such actions.
Read more: #ixzz2v2RXgmRj