Toure is a pitiful race hustling MSNBC hack who last week claimed that Holocaust survivors did so because of 'the power of whiteness.' As usual, most of the self hating progressive liberals Jews in this country (including the likes of Andrea Mitchell) remained silent. Today, there have been some rumblings that some Jewish groups are finally getting pissed at this comments. So Toure attempted damage control with a pitiful non-apology apology.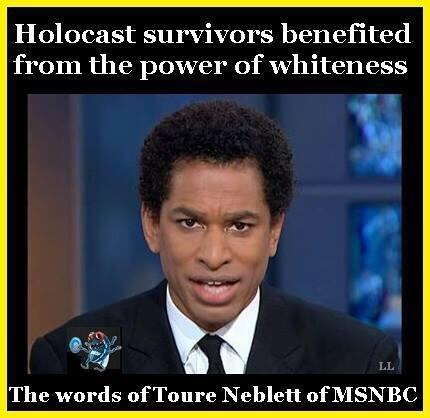 Toure's pitiful non-apology over claim Holocaust survivors had 'the power of whiteness'
It was a dumb idea by me to debate serious and nuanced topics in 140 characters or less… (Cont.)

— Touré (@Toure) May 27, 2014
In an attempt to comment on racism in post World War II America, I used a shorthand that was insensitive and wrong. (Cont.)

— Touré (@Toure) May 27, 2014
Late last week, I foolishly got involved in a twitter exchange regarding an article about reparations… (1 of 3).

— Touré (@Toure) May 27, 2014
Of course since Toure is a privileged half black, and a far left media hack, I'm sure this, just like everything else out of the pigs at NBC/MSNBC will just blow over.