After lurch John Kerry's open-mic bashing for Israel earlier today, we also have Richard Stengel blatantly rooting for Hamas terrorists and against Israel.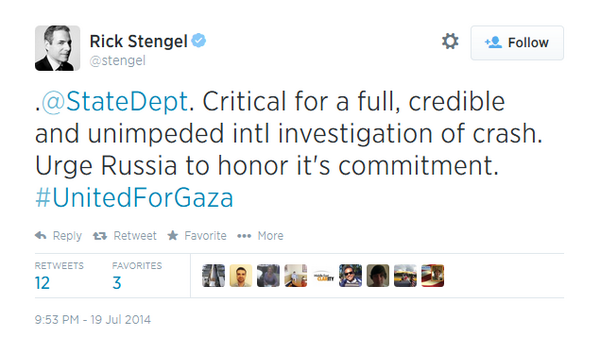 Obama State Dept Richard Stengel, tweets-deletes #UnitedforGaza
'Rick' Richard Under is the Secretary of State for Public Diplomacy and Public Affairs. Stengel made those tweet yesterday evening, then it suddenly disappeared. Does he really think that it's gone forever if he tweets it? This ain't the IRS and their e-mails.
If you want to see some reactions to Stengel's tweet/delete, check out Twitchy and Gateway Pundit.

Now maybe the remaining clueless Americans who think Obama has Israel's back will wake up and smell the coffee. Obama has Israel's back alright, with a knife in it. Lurch Kerry and Rick Stengel are just following the bosses orders to cheer-lead for Hamas.
Yes, the American government is blatantly cheering on a Muslim terrorist organization like Hamas. Doesn't that just warm the cockles of your heart?