The Muslims down under are just as batshit crazy as they are here or in the middle east. Meet the son of Khaled Sharrouf, an Islamic terrorist fighting with other terrorists in Levant Iraq.
Blazing Cat Fur even says that Khaled Sharrouf actually tweeted the picture of his 7 year old boy holding up the severed head with the caption 'That's my boy!'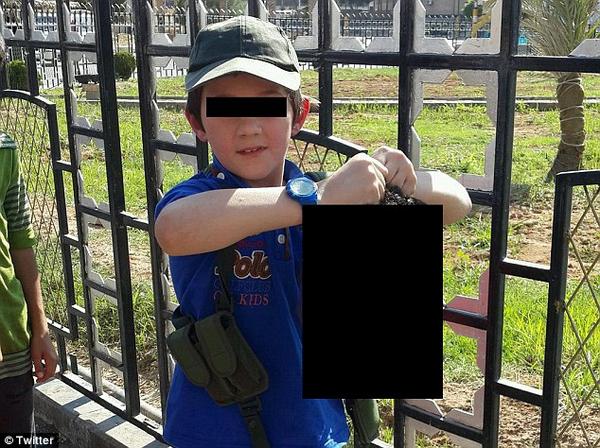 7 year old Australian Muslim shows off severed head
Truly Islam is the religion of peace as you can see from this photo. The next generation of terrorists may surpass this generation as the most ruthless ever. Something to really look forward to.

The young son of an Australian jihadist has been photographed gripping the severed head of a slain Syrian soldier.
Khaled Sharrouf's son, believed to be aged seven, used both hands to hoist the decapitated head up as he posed for a chilling photo.
His proud father, one of Australia's most-wanted terrorists and a suspected war criminal, posted the photo to Twitter on August 8 with the caption: 'Thats my boy!'.

With an uncomfortable expression on his face and clearly struggling to grip the head in his hands, the boy stands posing in front of a fence that featured the severed heads of apparent enemies of ISIS.
Dressed in an innocent blue t-shirt, checkered shorts, sandals and a cap – the youngster looks more as if he's dressed for a holiday tour than a warzone.
Tony Abbott said photographs such as this one highlighted the 'barbaric' nature of ISIL, which he said was trying to establish a 'terrorist state' in Iraq.