Fadi al-Qanbar is the Muslim terrorist who killed four people in Armon Hanatziv Jerusalem.
Horrifying footage of #Jerusalem truck ramming incident circulating on social media. Won't RT out of respect 4 deceased #ArmonHanatziv

— Stephanie Lamy (@WCM_JustSocial) January 8, 2017
Fadi al-Qanbar – Muslim terrorist killed 4 #ArmonHanatziv Jerusalem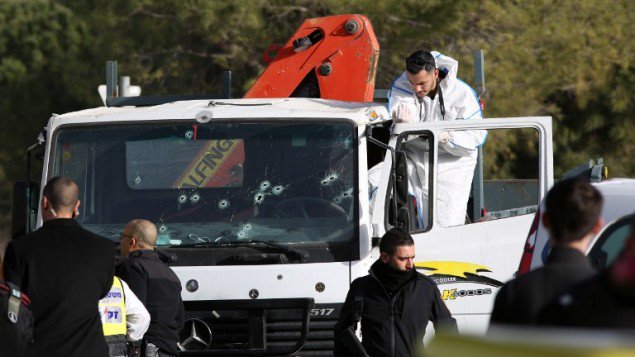 Strongly condemn Armon Hanatziv terror attack which seems to have taken so many young people's lives. No justification for such a crime -LFA

— EU in Israel (@EUinIsrael) January 8, 2017
As usual, Obama is silent on the terrorist attack in Jerusalem.
#BREAKING A truck reportedly hit a number of people on the Armon Hanatziv Promenade. Police checking if it's a terror attack.

— The Times of Israel (@TimesofIsrael) January 8, 2017
Fadi al-Qanbar is the new poster child of the anti-Semitic Democrat party.