Another Muslim terrorist, shouting Allahu Ackbar at a Spanish market called Mercadona in As Lagoas, Ourense, Spain has gone off the rails. The Muslim terrorist yelling Allahu Ackbar at the Spanish market was taken into custody, after firing off six shots. So far, from the early reports, it doesn't seem as if anyone was hit by the crazy Muslim terrorist's latest jihad.
Muslim yelling Allahu Ackbar shoots up Mercadona market in Spain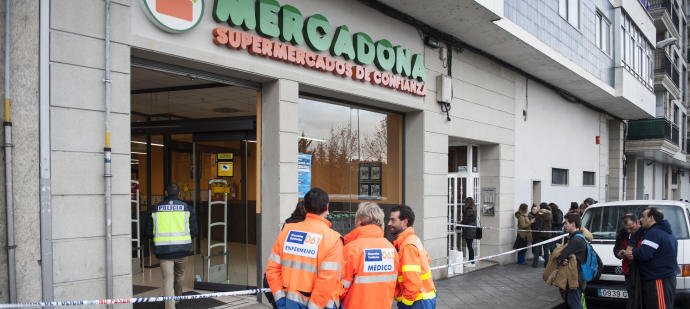 #Spain #AsLagoas – A customer entered a Mercadona supermarket. Fired several rounds, shouting Allahu Akbar.

— Terror Events (@TerrorEvents) January 11, 2017
#BREAKING: Gunman shouting 'Allahu Akbar' opens fire in #Mercadona shop, #Spain; No one was injured pic.twitter.com/gxJjTWdkfE

— Amichai Stein (@AmichaiStein1) January 11, 2017
SPAIN The attacker was carrying gasoline and gunpowder, walked into the #Mercadona shop (As Lagoas) before opening firing shots into the air

— ALPHA PRO (@DTMsport) January 11, 2017
The man was reportedly carrying gasoline and gunpowder in his pockets as he entered the Mercadona shop, in As Lagoas, Ourense.

Numerous shoppers were inside making their purchases when the assailant, who was armed with a shotgun, entered and fired several shots.

Supermarket employees said he fired at least six shots during the terrifying ordeal.

One employee said the man, who was standing just a few metres from him, yelled "Allahu Akbar", which translates to "God is greatest".

Police arrived at the scene to arrest the attacker.

One witness told local media: "Agents came out with a vest shouting and pushing the people."
Yes, even at a grocery story like Mercadona in As Lagoas, Ourense, Spain, you aren't safe from radical Islamic terrorists.