Another fake news media story about Donald Trump easing sanctions on Russia has been shot down by the truth. Earlier the media, like the New York Times was claiming that Donald Trump eased some sanctions on Russia via the Treasury Department. The fake news story about Trump easing sanctions on Russia was first reported by Reuters and spread on social media by the New York Times. Here is the original tweet:
Fake News media: Trump didn't ease Russia sanctions, Obama did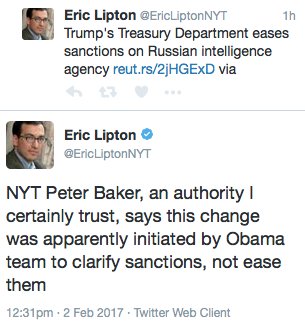 Trump's Treasury Department eases sanctions on Russian intelligence agency https://t.co/MgLz5TwX7U via

— Eric Lipton (@EricLiptonNYT) February 2, 2017

-partner="tweetdeck">
I apparently missed yet another hysterical fake news cycle while I was out grabbing lunch. pic.twitter.com/Oa7uWvv9r8
— Sean Davis (@seanmdav) February 2, 2017

Then hours later, after backlash and the truth being revealed, Eric Llpton had to backtrack on his false claim of Trump easing sanctions on Russia and admitting it was actually Obama who eased the sanctions.
NYT Peter Baker, an authority I certainly trust, says this change was apparently initiated by Obama team to clarify sanctions, not ease them

— Eric Lipton (@EricLiptonNYT) February 2, 2017
The media will stop at nothing to try and smear Trump, get the Russia collusion story going again, or just try anything to smear him. Pathetic, really after what the left wing progressives did last night in Berkeley. That isn't too big of a story in these left wing rags. But Obama policies on Russia that are attributed to Trump are YUGE stories.