How stupid is the Comey clown show during the Russian Intel Hearing? Comey tried to make an example using the New England Patriots, a team for whatever reason James Comey decided to admit he hated. What the hell do the New England Patriot have to do with the bogus media and Democrats claims of Russia and Trump colluding on the 2016 election? Does Comey think the Russians deflated the Hillary Clinton campaign's phone lines or something?
Comey clown show turns into I hate the Patriots VIDEO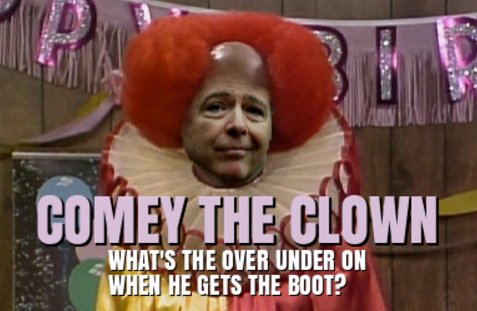 Someone needs to tell the clown Comey that we aren't talking about sports at this congressional hearing. We are talking about something important, like if Russia colluded with Trump. Of course, neither the Democrats, Comey, the media or Soros Republicans have been able to produce any evidence of collusion, but that wouldn't stop them from continuing to be-clown themselves.
Peronally, I don't give a rat's ass which sports team Comey likes or hates. This has nothing to do with this hearing. The same Comey who refused to answer if he briefed Obama on Flynn goes off an a tangent and tells everyone he hates the Patriots? Trump needs to dump Comey the Clown.