Something Bill Kristol of the Weekly Standard said a couple of days ago seems to be flying under the radar. It seems old Billy boy (the disgrace of Irving Kristol) is working on disposing of Trump and Trumpism. Notice Kristol's tweet:
Several of you have asked, What IS path forward? Well, we're working on it. Disposing of Trump & overcoming Trumpism can't be done in a day.

— Bill Kristol (@BillKristol) May 16, 2017
Weekly Standard's Bill Kristol: we're working on disposing Trump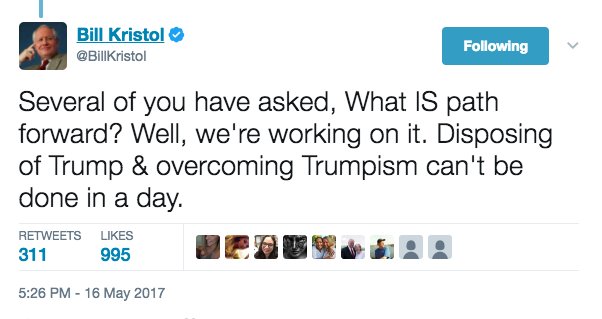 "we're working on.." so who's the we? Kristol and Evan McMuffin? Maybe Dianne Powell and Reince Priebus?
Sounds like a threat to me. I think the Secret Service needs to pay Bill Kristol a visit.
As this demonstrates, it's not just the media and Democrats trying to sabotage Trump at every turn. His own party, the GOP is actively plotting with Democrats, media hacks and Never Trump "Republicans" to cause all the chaos and stop his agenda.
The Weekly Standard, like National Review have become a joke since the Trump election, and many of their hack writers have really revealed themselves to be the true globalist scum they truly are. They are all just big government Republicans who are really Democrat lite. This is treason and sedition.