So in Europe there have been seven terrorist attacks, after last night's attack in Manchester. Attacks have been spread out from the UK, Sweden. The seven terrorist attacks include two in the UK and two in Paris. The seven terrorist attacks in Europe so far include:
7 terrorist attacks in Europe (So far) 2017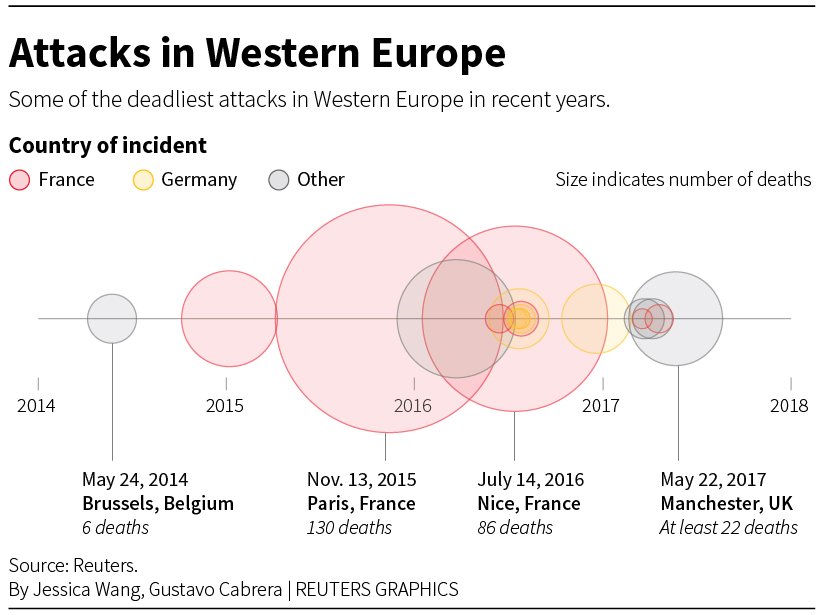 New Years Istanbul – 39 people were killed in a night club celebrating the new year when a Muslim terrorist shot up the night club. The terrorist was of Uzbekistan descent.
February 3 Paris – Muslim attacks soldiers with a weapon near the Louvre yelling Allahu Ackbar
March 22 London – 52-year-old Muslim stole a car, drove it into pedestrian crossing on a bridge near the British Parliament building. He kills a total of five people.
April 3 St. Petersburg (Russia) – Muslim terrorist set off a bomb in the metro system of center of St. Petersburg. 15 people died
April 7 Stockholm – Muslim steals a beverage truck, drives it into busy shopping area. 5 people died
April 20 Paris – Muslim starts firing gun shots at police officers and random people. Police officer is killed
May 22 – Manchester – Ariana Grande concert. Muslim sets off a nail bomb just outside the Manchester arena as people are leaving the concert. 22 people are killed, incuding an eight year old girl. The Muslim terrorist's parents are refugees from Libya that came the the UK in the 1990's.
Aside from Islamic terrorism, what do all seven of these attacks have in common? They were all done by ISIS. You know, what Obama called the JV?