Democrat terrorist and Bernie Sanders campaign volunteer James T. Hodgkinson had a hit-list of Congressmen he targeted for shooting and attempting to kill. While the three names haven't been released to the public (yet), all three on the Bernie Sanders campaign volunteer's list were Republicans. This, yet again shows not only that liberalism is a mental disorder, but how left wing terrorists are just as dangerous as ISIS and other Islamic terrorist groups. This also shows that standing with a beheaded head looking like Donald Trump or a "play" that mocks the killing of Trump really motivates these Democrat terrorists.
Democrat terrorist shooter had hit-list of Republicans he targeted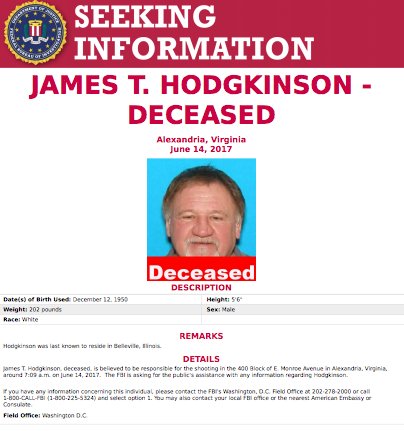 Shooter had hit list. No Dems on it; just Republicans. Yeah plays about killing the President don't matter. https://t.co/0qzGebQFdv

— ConservEsq (@ConservEsq) June 16, 2017
Assassination List Found On James Hodgkinson's Body… and the FBI can't figure out the motive?

— IAmSilky🇺🇸🇭🇺 (@IAmVerySilky) June 16, 2017
Report: James T. Hodgkinson Was Carrying Republican 'Hit List' At Time Of Shooting https://t.co/hVEJIPx5kA

— Melanie (@mefbama) June 16, 2017
But the FBI still can't establish a motive for a Democrat terrorist who had a hit-list of Republicans he wanted to kill. Umm, ok.