Ugly, fat black racist Jemele Hill was triggered earlier when she went off on a Twitter storm calling Trump a 'white supremacist.' This is now the favored language on the left to demean anyone who dare disagree with them. What is ESPN doing about their racist commentator? Absolutely nothing.
ESPN statement on Jemele Hill – no punishment for her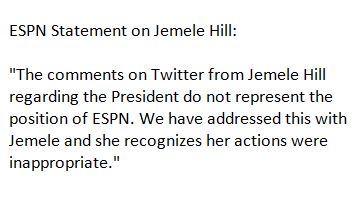 ESPN Statement on Jemele Hill: pic.twitter.com/3kfexjx9zQ

— ESPN PR (@ESPNPR) September 12, 2017
Had this been a conservative on ESPN bashing Obama, that person would have been fired immediately. Unfortunately, ESPN Is loaded with white and black left wing racists. ESPN is basically MSESPN or ESPNN nowadays with their liberal bias and social justice crusades.
At least ESPN still has Sergio Dipp.