Democrat Senator Bob Menendez of New Jersey hasn't gotten much media attention for his corruption trial. There are a few reports today that one of Menendez's former aides, Mario Lopes has flipped on the corrupt Democrat Senator and confirmed that Menendez used his office for pay-to-play, just the Clinton's. Mario Lopes confirms that the corrupt Democrat Senator helped with the visa applications of friends of a wealthy doctor who faces bribery charges with him. That pal is of course Salomon Melgen.
Former staffer confirms Democrat Bob Menendez used office for pay-for-play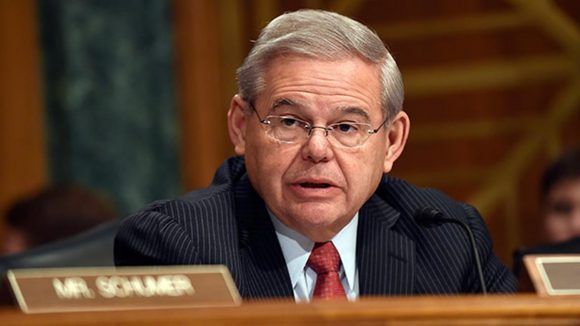 Under direct questioning from the government, former senior policy adviser Mark Lopes testified Menendez emailed him in 2008 authorizing a letter of support from Menendez to be sent to consular officials regarding the visa applications of two sisters from the Dominican Republic.

One of the emails sent around the time had a subject line that read: "Dr. Melgen's request."

One of the sisters was described by federal prosecutors as a girlfriend of Florida ophthalmologist Salomon Melgen, a longtime friend of Menendez's. The two men were indicted in 2015 and have pleaded not guilty to multiple fraud and bribery charges. Prosecutors said they orchestrated a scheme in which Melgen gave Menendez gifts and campaign donations in exchange for Menendez's political influence.

"We are preparing a general letter of support from you," Lopes emailed to Menendez and asked if it was OK to send it. "Yes, call if necessary," Menendez emailed back.

On cross-examination by defense attorney Raymond Brown, Lopes testified it wasn't out of the ordinary for Menendez or people in his office to contact officials in the Department of State over visa applications. He recalled the case of a Colombian family, also in 2008, in which Menendez called a U.S. ambassador in support of the family's application.
Basically, all politicians are crooks, regardless of party. But Democrats like Bob Menendez take the corrupt to a higher level. Menendez must resign now!