Now, from the leftist media, liberals and Antifa terrorists all over the country, we know what the arrest of Flordia looters really is. It's not justice for scum sucking left wing scum taking advantage of a Hurricane. Instead, it's purely white supremacy. This despite the fact not all looters in Florida were black, nor do blacks as a whole agree that looting is justified under any circumstances. But that doesn't matter to left wing filth who will turn any disgusting left wing act into an excuse.
good morning, the carceral state exists to protect private property and is inseparable from white supremacy https://t.co/etynmh0rX5

— Sarah Jaffe (@sarahljaffe) September 11, 2017
Leftists and AntiFA: arrest of looters is white supremacy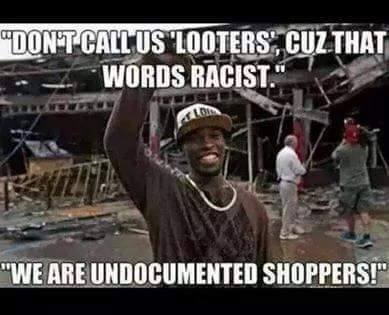 An author and journalist came under fire on social media Monday, after she tweeted a reply to an anti-looting warning from Miami police by saying: "The carceral state… is inseparable from white supremacy."

The Miami Police Department took to Twitter on Sunday, as Hurricane Irma battered the state. "Thinking about looting? Ask these guys how that turned out. #stayindoors," the post read, sharing a photo of people inside a jail cell.

Though Sarah Jaffe's tweet on Monday garnered 1,500 likes, it sparked more than 100 comments — many of which were critical and accused her of being racist.
Sarah Jaffe is a member of The Nation Institute which claims to be dedicated to a free & independent press. That's irony for you.