Until Twitter gets around to censoring #BoycottKeurig hashtag from trending (and they will), it is now the top trending topic on Twitter. Why? Because last night Keurig came out and caved the leftist scum yelling at them to pull ads from Hannity for interviewing Roy Moore and giving him a chance to responds to the claims made against him.
Aretha, we worked with our media partner and FOX news to stop our ad from airing during the Sean Hannity Show. Please reach out to our Customer Care team at 866-901-2739. They will be happy to assist you with your brewer.

— Keurig (@Keurig) November 11, 2017
#BoycottKeurig now top trending topic on Twitter after pulling ads from Hannity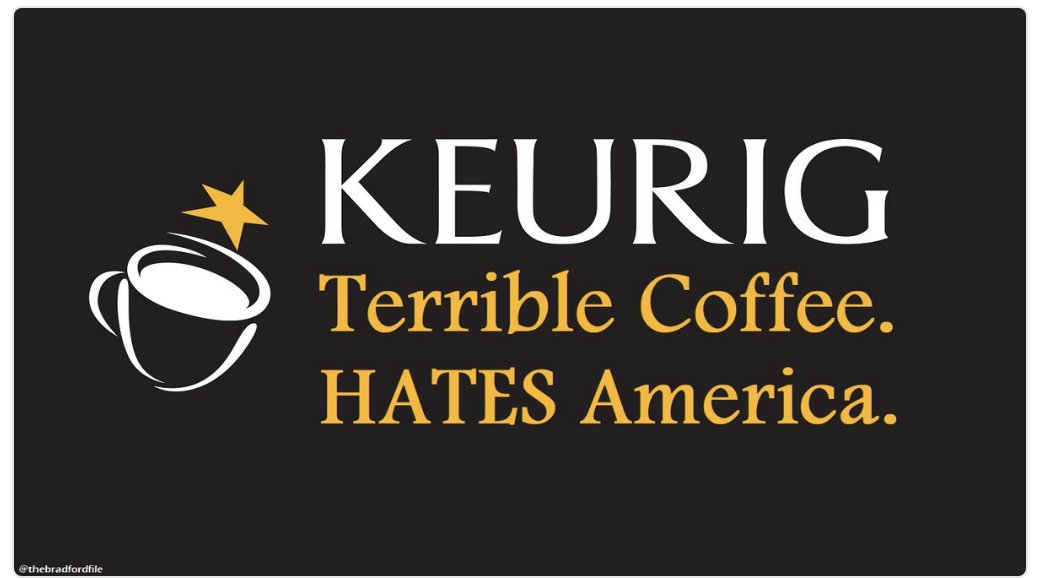 Looks like the keyboard cowboys on the left are going to try and O'Reilly Sean Hannity. This time, it's nothing on anything Hannity did himself, instead it's Hannity interviewing Roy Moore and letting him respond. That's how the left works.
Keurig has seen a backlash on social media that they weren't expecting. Not exactly a smart way to try and market your product to the American consumer.
The American Consumer Has All The Cards, @Keurig!

When companies get involved in politics the American People set the record straight! 🎯@seanhannity #Hannity 🇺🇸#IStandWithHannity #BoycottKeurig 🚫 pic.twitter.com/RDgdAx2Naf

— SHANNON #MAGA 🇺🇸 (@GeorgiaDirtRoad) November 12, 2017
KEURIG:
Terrible Coffee ✔️
HATES America ✔️
MAGA 🇺🇸 #BoycottKeurig pic.twitter.com/U9tncIYgCk

— thebradfordfile (@thebradfordfile) November 12, 2017
Guarantee that Keurig will buckle under pressure. Ads will be restored on Sean Hannity.

Like all fake media outlets on election night, Keurig will soon learn what America is really all about. 👊🏻#BoycottKeurig.

— GRANT J. KIDNEY 🇺🇸 (@GrantJKidney) November 12, 2017
I pulled an "Office Space" with my Keurig… Would be a shame if everyone else joined me in the Keurig Smash Challenge #BoycottKeurig #IStandWithHannity #SundayMorning pic.twitter.com/yEADeRC006

— Angelo John Gage (@AngeloJohnGage) November 12, 2017
Keurig, like the #NFL had forgotten who funds capitalism

That's right, middle class people who ACTUALLY work.

Let's give Them a Christmas they'll never forget.

— PinkAboutIt 🇺🇸 (@Pink_About_it) November 12, 2017
Keurig is about to learn a very costly lesson. Like the NFL, you don't cave to a couple of whiny liberals on social media and pull your ads from Hannity. You disrespect America, you lose business. Can't wait to see these scum come crawling back to Hannity. I'm also glad I never wasted money on a Keurig. I hear the coffee it makes sucks anyway.