Week 11 of the NFL season saw more empty seats, lower TV ratings and overpaid thugs disrespecting the anthem and country, even on forgein soil. Take for instance Oakland (soon to be Las Vegas) Raiders scum Marhshawn Lynch.
The Raiders played in Mexico City today and are currently getting clobbered by the New England Patriots. Marshawn Lynch decided to sit down as the National Anthem began playing in Mexico City. When the Mexican national anthem played, Marshawn Lynch was standing at attention, respect their anthem.
NFL thugs disrespect anthem, country in Week 11, even in Mexico City!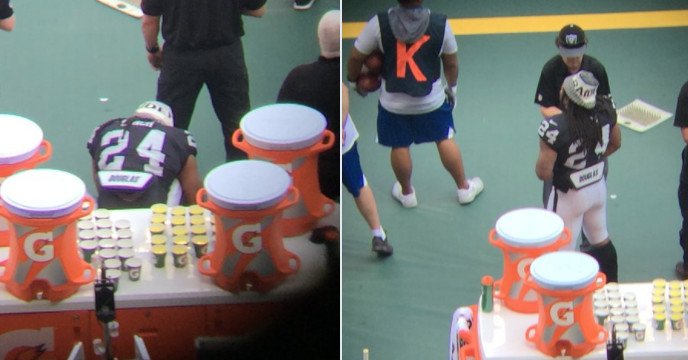 Other NFL thugs disrespected the anthem and flag too, but at least it wasn't in a foreign country.
New York Giants: Olivier Vernon took a knee during the national anthem in a game against Kansas City in New York.
New Orleans Saints: Most thug players knelt before the anthem, to show "solidarity" for being oppressed or something
Kansas City Chiefs: losers to the pitiful New York Giants Marcus Peters came out of the coward tunnel as the nathem was playing in New York. This is a common cowardly act by Peters to disrespect the country.
Miami Dolphins: Same three thugs Wide receiver Kenny Stills, safety Michael Thomas and tight end Julius Thomas took a knee during the playing of the national anthem. Usually these three thugs hiding in the locker room until the anthem has concluded. This time they finally came out and showed America how disgusting they really are.
Los Angeles Rams: Outside linebacker Robert Quinn did a black power fist in the air as the anthem was being played in FrankenVille aka Minnesota.
Tennessee Titans: During the game on Thursday, Wide receiver Rishard Matthews remained inside the locker during the national anthem like a coward.
Keep it up NFL. You are losing thousands of fans every week. Soon, you'll be lucky if you draw as much as a hockey game.