LOL! The old pervert John Conyers is a bigger pervert than originally though. A former aide claims that most of his staff has seen him in just his underwear. LOL! Dirty grandpa. CNN calls this a "defense" of Conyers.
Former Conyers aide: 'Most of us' have seen him in his underwear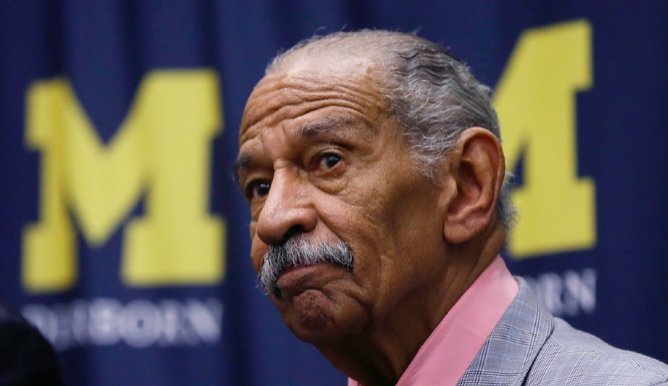 A former top communications aide to Democratic Rep. John Conyers of Michigan offered a defense of his former boss amid Tuesday growing allegations of sexual harassment, saying it wasn't uncommon for staffers to accidentally see the congressman in his underwear.
Someone with the last name of Weiner also defended Conyers to CNN claims that Conyers' "closet" was in his office, so it was ok for him to sit there in his underwear or something. Typical CNN, they think Bill Clinton is god, so of course they would defend Conyers.
Bob Weiner, who served as Conyers' communications director from 1994 to 2000, spoke to reporters and photographers assembled outside the Congressman's office, disputing Sloan's allegations.
"Something else that people need to know: his closet is in his office right here. He changes clothes in his office. Most of us have walked in on him accidentally without knocking and have seen him in his underwear. Big deal. That's where his closet is, he changes his clothes there. So to say that somebody came to a meeting and that's how it was, that's an untrue statement. That is the kind of thing that needs to be explored before there's any acceptance to that kind of an allegation," Weiner said, later clarifying that all members of Congress have closets in their offices.
Eh, whatever floats your boat CNN. If you consider this acceptable behavior then I'd like to see what would happen is Anderson Cooper (who's ancestors were major slave traders) walked around in his underwear. That's an image I don't even want to imagine.