NFL Week 13 continues the trend of NFL stadiums not being able to sell thousands and thousands of tickets because of pissed off former fans who have decided to boycott the league over the players (and owners) disrespect of the national anthem, American military and flag. Here are today's empty stadiums from Week 13. Each week that passes seems to increase the number of empty seats in stadiums that used to be standing room only for NFL games.
Houston Texans at Tennessee Titans (Tennessee trying to win their division):
Surprising number of empty seats at an #NFL game with playoff implications for the home team #Football #CFL pic.twitter.com/k1W4CgFEEQ

— The Herle Burly (@TheHerleBurly) December 3, 2017
NFL Week 13 empty seats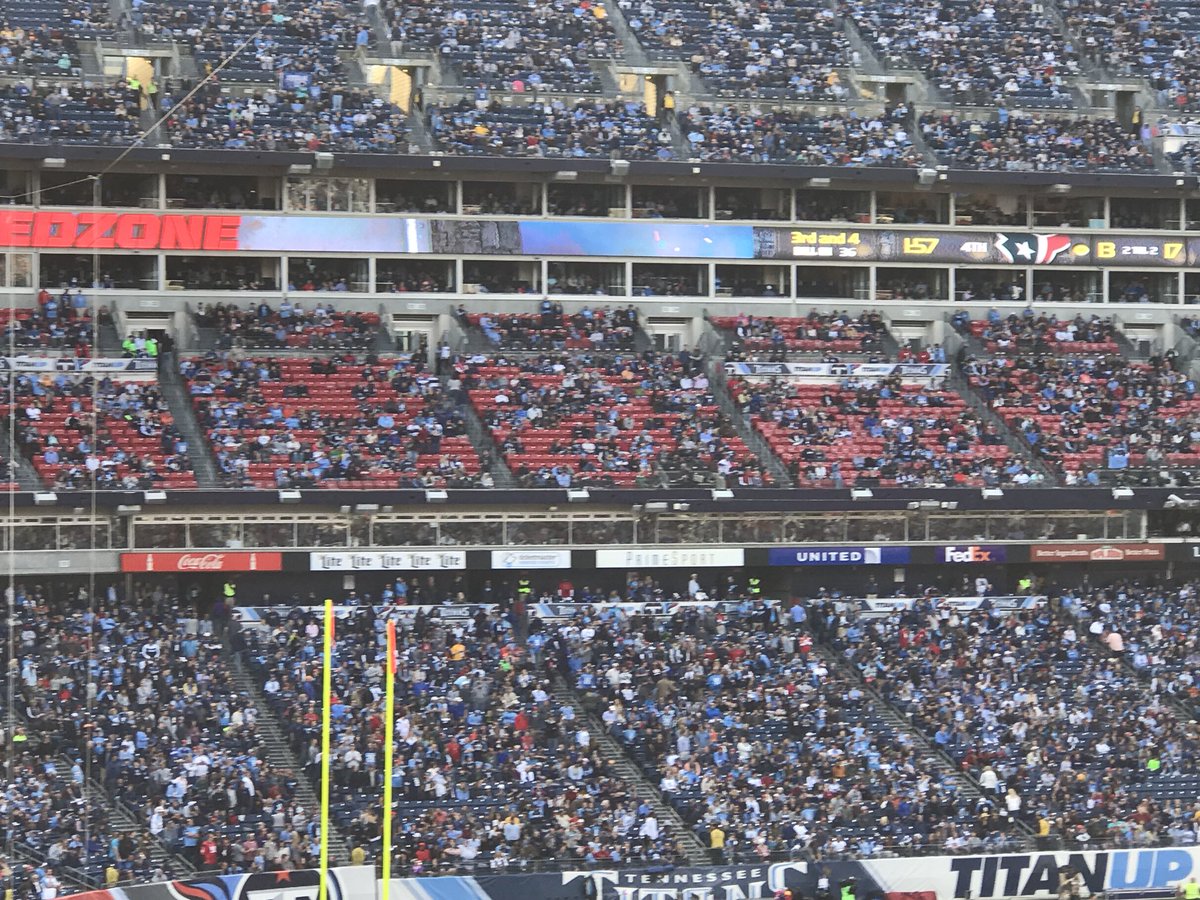 Kansas City Chiefs at New York Jets (I thought New Yorkers were supposed to have the "best fans" in all of sports and support their team no matter how lousy they are? Guess not.)
San Francisco 49ers at Chicago Bears:
Bears see attendance drop again in Week 13 #ChicagoBears https://t.co/MxNNdyEjwm pic.twitter.com/21uZYrx0LS

— Bears Report (@bears_fanly) December 3, 2017
Minnesota Vikings at Atlanta Falcons (Atlanta was a Super Bowl team last year):
New England Patriots vs. Buffalo Bills:
Denver Broncos at Miami Dolphins:
Cleveland Browns at Los Angeles Chargers:
Kickoff at the browns chargers game @EmptySeatsPics @Reflog_18 #GoBrowns pic.twitter.com/u2LXtYR4w4

— Robert Alves (@Bobby_Alves) December 3, 2017
Carolina Panthers at New Orleans Saints:
New York Giants at Oakland Raiders:
Let's go @RAIDERS!! #NYGvsOAK 🏈 pic.twitter.com/qZI2VXCuP2

— Oakland Coliseum (@OAColiseum) December 3, 2017
Los Angeles Rams at Arizona Cardinals:
@Rays_Sports @LionCuban @MonteAJP at University of Phoenix stadium to see @RamsNFL take on the Cardinals pic.twitter.com/FvjyYcoXnR

— Lopez and the Lion (@LopezandtheLion) December 3, 2017
Detroit Lions at Baltimore Ravens:
The young people of Cardinal Sheehan school performed a moving rendition of the Star Spangled Banner today at the @Ravens game! #MyBmore GREAT JOB!! #Ravens So proud!!!! pic.twitter.com/MTjvLYeCiq

— T.J. Smith (@TJSmithMedia) December 3, 2017
Indianapolis Colts Vs. Jacksonville Jaguars:
EverBank Field @Gknee is trending on Socialhood. See more at https://t.co/pKg6wDPmBh pic.twitter.com/fPrBrN0eVS

— Socialhood (@socialhood) December 3, 2017
Tampa Bay Buccaneers at Green Bay Packers:
Minnesota Packer fan watching in Lambeau! #PackersRollCall #GoPackGo pic.twitter.com/CS0yx3L3cv

— Jeans (@JeanneEigner) December 3, 2017
Keep it up NFL thugs and scumbag owners. I'm liking what I'm seeing from the attendance and falling TV ratings. Your "oppression" is about as real as Brian Ross' news.