How pathetic is it that when there is a government shut down, the military doesn't get their pay, but the scums who actually shut down the government (senators and congress critters) do get their full pay checks. Something is desperately wrong here. Take for instance Utah Rep. Mia Love. She had to make a Twitter public request to announce she wanted her congressional salary (that we pay for) withheld until the Schumer Shut Down is over.
Senators and Congress scum still getting paid during Schumer Shut Down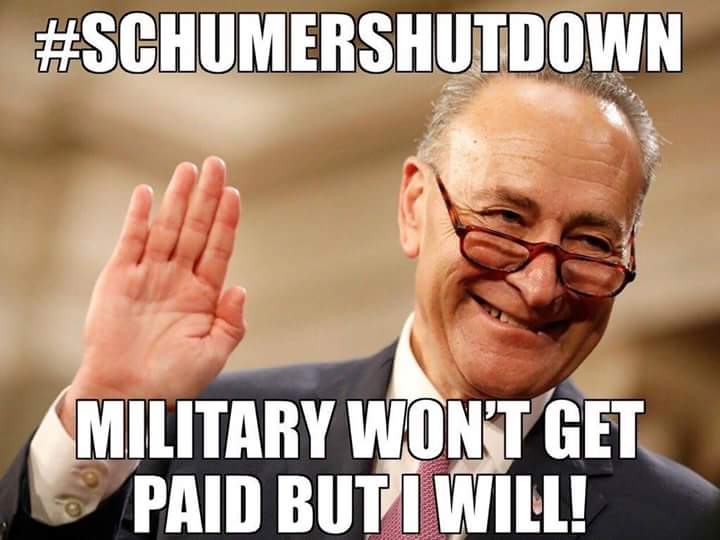 I am frustrated and angered by @SenDems, whose unacceptable action has shut down the federal government. In light of this, I have requested my pay be withheld until the #SchumerShutdown ends. #utpol

— Rep. Mia Love (@RepMiaLove) January 20, 2018
Now, I'm no fan of Mia Love. She's just another filthy NeverTrump GOP establishment hack. How in the hell is congress and the senate paid if the government is shut down and others aren't getting paid like Capitol Police? Her tweet should infuriate everyone. Well that is everyone who isn't a communist Democrat and thinks of the military and their families as second class citizens. All of this for illegal aliens who have broken the law to come to this country. This is what the Democrat party is. The party of every other country except America.
Of course. Mia Love's tweet is most likely just damage control for her pathetic running to CNN to bash Trump after it was leaked that Trump may or may not have called Haiti a shit hole (which it is.) Love, who is from Haiti called Trump a racist on CNN to he salivating fake news hacks over there. She lost me as a fan since then.